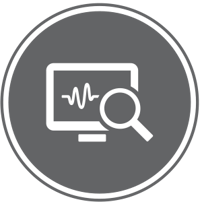 In this interview, Chris Springer, Senior Network Consultant, talks about why organizations should consider Versatile Network Health Checks to help prepare them to meet future goals. Here is Chris's take.
Can you explain how an organization can benefit from a Network Health Check?
A Network Health Check is all about discovery and helping an organization get to where they want to go. It's a fixed price, fixed scope project. We take a look at the organization's immediate, upcoming, and future needs, then design a solution not just for today, but one that also prepares the network to the technology of tomorrow.
Every Network Health Check is unique because every organization is looking for something different. For example, one organization may want to focus on their wired or wireless network, while another wants to address its application-level infrastructures. Whatever the customer wants, we address that potential areas of concern.
Some organizations are worried that a Network Health Check will be invasive or that we'll uncover or interfere with secure data. That's not what we do. We really focus on helping each organization accomplish a fixed goal that they need help with like uncovering unknown issues or validating their current environment.
Are all Network Health Checks alike?
There are two approaches: reactive and proactive.
In a

reactive assessment

, the customer has a defined idea of what the organization's pain points are in the network. We address the pain points and remedy the situation.
In a

proactive assessment

, the customer wants to know about the latest technology and understand how to take advantage of it. Oftentimes, the customer's network isn't ready for the new technology, so we help prepare them for readiness. In these cases, it might not happen overnight, but we usually make suggestions that the customer can plan out across one or two budget sessions.
What do you do in a Network Health Check?
In any Network Health Check, we always do three things:
Collect data

Analyze data

Recommend changes
In all cases, we start with a site visit, collect data at the network, and conduct interviews with IT stakeholders: the visionaries. We bring back the data to our office and sit down with our internal team--everyone from systems architects to project managers--and we analyze the data at a holistic level, taking into consideration the organization's goals. It's our job to bring their vision to the present. We put together a report with action steps that will get the organization where it wants to go. Every report includes a summary, recommendations, supporting documents (like policies, procedures, and standards), and a technology roadmap.
What makes Versatile a good partner for a Network Health Check?
One of our core strengths is really listening to our customers. We don't believe in a one-size-fits-all solution, so we really take the time to learn about each customer's unique circumstances and address them. We've built a process that enables us to keep each engagement reasonable and unique.
We also pride ourselves on the technical abilities of our consultants and engineers. As a customer gets to know us, they begin to ask more questions. We can often resolve problems in hours when it would take them weeks. That expertise and reliability builds trust, and we become a trusted advisor.
Finally, we are really good at helping build consensus within an organization: helping an organization agree on the next steps, solution, or direction they need to take.