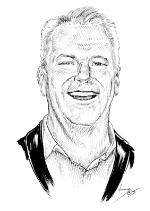 Compiled and edited by Jennifer Hooper
We recently sat down with John Barker, Versatile co-founder and CEO, who gave us his take on Versatile's place in the IT industry as 2015 winds down and 2016 ramps up.
Do you have any messages for your clients as 2015 comes to an end?
The breadth of our portfolio grew significantly in 2015, we can offer more support. Helping clients has always been our top priority, and as we look ahead to 2016, we're going to keep asking How can we continue to be a trusted partner to move your business forward?
I'd also like to thank all our clients, old and new, for their business over the past 21 years. We'll continue to listen to their needs and find ways to bring real solutions to their business problems.
Can you tell us how things have changed for Versatile and its clients over the last 21 years?
The one consistent thing at Versatile is change, and we've always been good at keeping up with the changes.
Back in the day, a data center was a big locked room that no one understood except the IT department. That's changed quite a bit in the last several years. Now data centers are more integrated with the "business" of their organizations. Our clients want to know how to operate their organizations more effectively, how to market better to their customers, and how to take advantage of the data they've gathered over the years. They also care about how they can use that data to improve customer relations, products, and services, and how they can leverage IT to answer these questions. Versatile has had to shift beyond selling just technology and adapting to creating IT solutions that focus on business outcomes.
As an IT provider, you really can't be in business today unless you can understand what kind of value you can drive to your customers. Versatile has spent a lot of time—especially in the last few years—rounding out our portfolio of services to address the needs of today's clients. We've been able to do that by building a smart team that works hard and is willing to pivot as the industry pivots.
Can you talk more about the IT evolution and how Versatile has kept up with the changes?
Clients have really changed the conversation; the focus isn't always about hardware price, speed, and fit. People want to understand how we can help them with their particular business problems; they want to talk about value and how we [Versatile] can help them run their organizations better. I think we've always brought this kind of expertise to the table, but now it's certainly much easier to have these elevated conversations.
In years past, clients have had to find multiple vendors to do multiple things. Versatile now plays the role of "trusted advisor" and offers the expertise in one place. We've really broadened our services to extend beyond a traditional IT provider. For example, we can wrap Managed Services support around hardware sales and professional services; and we've added Application Services to our portfolio this year, which have been wildly successful. We also have a Consulting Services team that works with executives in an organization to really understand how their business operates, identify where they need help, and deliver the solutions they need.
In our trusted adviser role, we meet clients wherever they are and point them in the right direction to meet their business outcomes. We're successful at this because we really listen to what our clients want. We've always worked hard at responding to our clients' needs, and we're committed to keep doing so.
Can you explain Versatile Distribution Services (VDS) and the role it plays in the IT industry?
VDS is a business owned by Versatile that provides plug-and-play, turnkey solutions for specialty resellers, software companies, and Value Added Resellers (VARs) of all sizes. For example, a software firm might turn to VDS to take its software, "marry it" with hardware, and ship a complete solution to clients so it's ready to go when the boxes arrive. VDS also extends services to VARs that may not be able to provide the suite of services that VDS can.
Niche VARs don't necessarily get a lot of attention from manufacturers, but since Versatile is fairly large and we get a lot of attention and support, we can pass along that support to other resellers. There's a whole slew of smaller VARs that produce a lot of business in the IT channel, and VDS is there to help them.
Whether a VAR needs managed services, application services, consulting services, or something else, it's exciting that VDS can draw on all of Versatile's resources to support other VARs in the industry. In essence, VDS is a micro/mini distributor that brings together everything that Versatile does and extends it further.
What will Versatile's focus be in 2016?
We will strengthen our 2015 investments on application services and consulting services and we will continue to capitalize on all of our investments with an eye toward possible additional acquisitions to better serve our clients
We're focused on our evolution as a "next generation" VAR, a reseller that offers a strong portfolio of services and products. We've put an incredible amount of talent in place throughout Versatile that are extending out to our VAR clients and their customers.
Versatile recently expanded its Southeast region with the new office in Tampa. We have great traction in Florida, and we think there is a lot more opportunity to explore in 2016
It has always been Versatile's goal to service the entire east coast, so we will be working to fill in the gap between the northeast and the southeast by expanding Versatile into the mid-Atlantic region. We'll begin to explore in 2016 and execute in 2017.