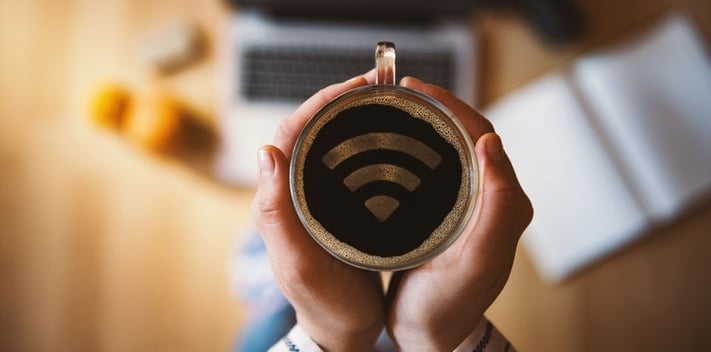 It's hard to believe something as ubiquitous as WiFi could mean the difference between productivity and frustration; growth and underachievement; innovation and stagnation. But it's true. Without fast, reliable wireless service, companies can't take full advantage of the next-gen mobile and cloud apps that propel business success. It's a critical component of your organization's digital transformation journey.
Mobility Drives Achievement
Forbes recently reported several interesting stats—small-to-medium businesses (SMBs) have seen 2x revenue and 8x job creation based on their adoption of mobile technologies. They also found that employee mobility led to a 23% increase in productivity and 30% better processes.
To realize these benefits, you need a digital workplace that:
Embraces BYOD and wireless connectivity to office equipment

Ensures anytime, anywhere access to corporate networks, data, and applications

Leverages unified communications and collaboration tools

Uses cloud apps to boost agility, process innovation, and growth

Optimizes communications between corporate and branch offices
Speed and Access Mean Everything
Without fast, reliable communications, SMBs cannot realize these results. New WiFi Wave 2 access points let companies boost connection speeds by 11x, compared to previous releases. More importantly, its new multi-user multiple input/multiple output (MU-MIMO) capabilities improve reliability by eliminating "bandwidth shutout" and supporting more users from the same access point.
But a mobile workforce needs more than high-speed connectivity at the office. To be as productive as possible, they need access to critical apps wherever they are—from whatever device is at hand. For SMBs, the challenge lies in finding a way to secure outside connections to corporate systems without using complicated systems that frustrate users.
Access Policies Help Protect Your Network
Most networking experts agree that basing access policies on real-time contextual data offers the most elegant, effective way to protect mobile communications. For example, the Digital Workplace solutions from Aruba, a Hewlett Packard Enterprise company, lets you use a mix of information from user profiles, devices, connection requests, IT workflow policies, and more to validate connections prior to granting access. It can even check device health to block devices corrupted by malware, or those with outdated security settings, from connecting to corporate networks. These capabilities are built into the WiFi management interface, making it an extremely affordable and simplified option for SMBs without a team of in-house security and networking experts.
Prioritizing Services Enhances Efficiency
Additionally, visibility and prioritization are critical to building an efficient workplace. Instead of allowing all apps and users to have an equal share of WiFi bandwidth, companies can prioritize service for business-related activities. This approach prevents employees who are checking Facebook at lunch from disrupting connectivity for those using accounting, ERP, CRM, and other mission-critical applications.
In a mobile-first world, WiFi is critical to success. When employees are frustrated by sluggish performance, service outages, or complicated login procedures, they can't work productively. Worse, they won't be inclined to take advantage of the new cloud and mobile technologies that drive innovation.
In the age of digital transformation, where surpassing client expectations isn't a rarity, it's the "norm," you have no choice but to embrace and support a mobillity experience that will attract and retain customers.
For additional tips on eliminating the issues that can degrade SMB success, download our new Aruba solution brief, Networking Complexities Solved.