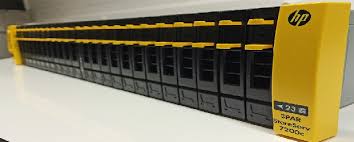 Hewlett Packard Enterprise (HPE) recently announced storage portfolio enhancements to help enterprises capture the benefits of an all-flash data center while shielding them from risk.
The announcement points out that "the all-flash data center can reduce IT budgets by one-third while improving business agility." The new product portfolio is designed to reduce energy, floor space, and disk capacity while reducing administrative time. For these reasons, we think HPE's flash storage products offer an exciting opportunity for organizations to upgrade their data centers, especially in light of its "Get Thinner Guarantee."
The guarantee states that if your organization migrates to the HPE 3PAR StoreServ All-Flash Array and doesn't reduce its capacity requirements by 75%, you will receive up to 30 TB of additional raw capacity, along with related software and associated support. We like HPE's bold stance!
Wondering if the HPE's flash storage is a good fit for your organization? Just sign up for a no-risk, no-obligation discovery session with one of our certified architects, and we'll help you cut through the confusion. We'll throw in a $50 Amazon gift card too...just for talking to us!
Versatile is a Hewlett Packard Enterprise Platinum Storage Partner.