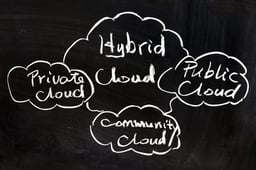 The term "hybrid solution" isn't marketing fluff; it's a utopia that IT departments everywhere are trying to achieve. The challenge facing IT managers is that they know they need a hybrid solution, but aren't sure how to get there. Should they take a "cloud-first" or "premise-first" approach? There's a lot of confusion.
We think another approach to consider is "API-first." Microsoft is the only provider on the market offering this approach right now, clearly differentiating itself from Amazon Web Services and Google Cloud Platform.
Why "API-first?" Dana Gardner, president and principal analyst at Interarbor Solutions explains: "The API-first and converged infrastructure models together are highly compatible, synergistic."
We agree.
This is one approach we think organizations should consider because the higher abstraction "API-first" approach applies to as many aspects of IT as possible.
If you're interested in learning more, we suggest reading "Microsoft sets stage for an automated hybrid cloud future with Azure Stack Technical Preview" or call Versatile at 877.217.3397 and ask to speak with an IT consultant.