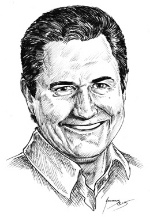 Compiled and edited by Jennifer Hooper
Designing a strategy and creating a roadmap for your IT infrastructure isn't easy. Ease your burden and lighten your load by leaning on industry experts. Versatile President, David Cote, gives his take on Versatile's new consulting services.
Versatile recently added Consulting Services to its portfolio of offerings. What was the reasoning behind that decision?
Many people are confused about the choices that are available for consuming technology, and which choices are right for their companies. In general, company executives are putting a lot of pressure on IT departments to make decisions that optimize business performance and overall outcomes. We added Consulting Services to help our clients get to the right decisions.
Can you explain how Versatile's Consulting Services work?
Consulting Services bridges the gap between business decisions and IT decisions by playing the role of "trusted advisor." We really use a "next generation" approach, which means that most of our consulting engagements take weeks rather than months or a year. We leverage some really effective tools that help our clients map out their current infrastructure, study what their future infrastructure will look like, determine the impact of Service Level Agreements, assess security and compliance issues, then show the client the best path to travel to achieve their desired results. Our consultants are experts; they help organizations get on the same page and implement strategies that makes sense for them.
Where do you think the IT industry is headed?
There's a lot of industry forecasts and predictions about how organizatons will be deploying their IT infrastructures in the years ahead. We believe that in the next five years, 1) there will be a significant drop to on-premise technology, 2) the public cloud is going to double in size, 3) the private cloud, which is where consumers basically have their technology hosted (or ask us to host it for them), is going to grow at a rate faster than on-prem solutions.
Speaking of the cloud, what is Versatile's cloud strategy?
It's really not about Versatile's cloud strategy; it's about what's the best cloud strategy for our clients.
Clients tend to fit into one of three buckets: 1) they're being forced to consider a cloud strategy because they don't have one, 2) they have a cloud strategy, but they need it validated, in other words, the IT department is having a hard time pushing it through the organization's internal decision-making process and they need help, or 3) they think they have a cloud strategy, but they really have ten, which is a very common situation. In these cases, different people within the organization are supporting various cloud strategies, all of which could be successful, but the organization doesn't really know which is best overall. In any of these scenarios, we serve as an objective third party and provide recommendations.
There are very few organizations that have a perfect cloud strategy right now. Our Consulting Services help organizations spend their hard-earned dollars in ways that meet their business outcomes more effectively.
How do Versatile's application services tie into cloud strategies?
As you know, Versatile recently acquired Kiiro Software, and one of the services we now provide, through that acquisition, is the ability to help design applications that leverage deployed instances of SharePoint and provide analytics tools. This work often leads clients down the road of business process optimization, which usually involves cloud strategies and Consulting Services.
Right now, most clients are aware that they need to consider a cloud strategy and that there is probably significant key performance indicators buried in their company data. When we combine application services, cloud strategies, and consulting services, our clients get deeper analytics and reporting that is really meaningful to their organization.
Some organizations are pushing a total cloud strategy. Is this forcing a square peg into a round hole?
Versatile's strategy is about helping clients find a balance between on-prem and cloud, and more specifically, finding the best solution for their business requirements. We facilitate planning sessions with the team of people from the company that are involved in making decisions. We provide a technical roadmap for cloud services and evaluate whether or not cloud technology can be implemented in the timeframe that the client wants. Oftentimes, there's a lot more planning involved in moving a workload into the cloud than the company is prepared for; there may be things they need to do before they are actually ready. It's not that a total cloud strategy is wrong, it's that there are a lot of factors involved to make sure a decision like this would be right.
What types of clients or industries could benefit from Versatile's Consulting Services?
We see that most organizations right now, regardless of industry, are going through some sort of IT assessment phase. They are looking for ways to save money or capital, especially if new solutions are more efficient and effective. Those clients who are currently considering cloud strategies and making good IT decisions are going to be ahead of the curve in their industries.
If I was a potential client, how would you describe the benefits I would receive if I hired Versatile?
Versatile is versatile. We adapt as the industry changes. We are a full-service provider that offers professional services, managed services, application services, consulting services, and fulfillment services in our portfolio. We also understand that every client is unique in the consumption patterns of those services. Whether your company needs an assessment/validation or a customized application, it's just as important to us to help you prevent a poor decision as it is to design a new solution. It's really about helping clients meet their business outcomes, and that sets us apart from the other solution providers.