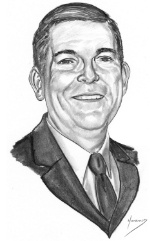 Compiled and edited by Jennifer Hooper
David Christianson, Senior VP of Consulting Services, takes a deep dive into Versatile's newest consulting offering and expertise.
Can you explain what drives Versatile's Consulting Services?
The Consulting Services team was formed at Versatile to help clients find the intersection between their business problems and information technology. While Versatile has a robust history of implementing technical solutions, now we can help clients more by leading them through a planning process to uncover alternatives. Consulting Services helps with technology decisions, but also readiness, budgeting, and IT management issues. We engage the client as early as possible and help them create a roadmap so there are no surprises along the way.
Are clients asking for new roadmaps or are they looking to Versatile to validate the roadmaps they've already developed?
Both. Sometimes a client engages us right at the beginning, but often we are brought in after a client has already made a decision. In these cases, we can review their plan and validate their technical decisions from a business perspective, as well as help justify budgets. We can even help with remediation in a situation where an ongoing project has run into a problem, whether it's a technical, organizational, budgetary, or project management issue.
Do you primarily work with just IT professionals?
Actually, it makes sense for us to engage with as many stakeholders as possible. A lot of our work starts with an IT manager, but it gets reviewed and digested at the senior management level. Think of it this way: in most well-run organizations, IT tends to focus on operations: making sure that the organization's IT infrastructure is always up and running. Senior management is typically focused on the business end of operations and wants to optimize performance, which sometimes requires change. We help organizations balance "steady state operations" and "change management" at all levels within the organization. One of our key differentiators from our competitors is our experience and expertise planning for and managing change.
What are some of the services that the Versatile Consulting team offers?
While we focus on complex problem solving and strategic planning, what we recognize is that we have to make the value of our consulting services obvious to our clients. We've come up with four initial offerings that focus on actionable results:
Executive Briefing. This offering is focused on helping clients put their cloud decision-making in perspective. We conduct a 2-4 hour facilitated discussion to inform clients about various cloud adoption strategies, readiness issues, and migration planning.


Fast-track Cloud Assessment. For clients that have already established a cloud technology direction, our assessment process can validate those decisions against the current or planned environment. We use a scorecard process that offers a side-by-side comparison of cloud technology options, combined with analysis to interpret the client's technical readiness.


Cloud Roadmap. If clients are in the early stage of assessing their cloud options, we can assist with a "roadmap" process that assesses their readiness, validates the technology and budget options, and generates a requirements definition for cloud migration. High level implementation planning gives our clients the business-based blueprint they need to confirm their technology direction, and to justify it from a business perspective.


CIO Advisory Services. Even the most effective CIOs and technology managers need advice or an outside perspective from time to time. We offer clients specific objectives, unbiased vendor-independent perspective, and experience. We have deep expertise in technology, IT operations/organization, security, strategic and tactical IT planning, budgeting, and project management. We advise clients through challenges like "What's the best organizational strategy for us moving forward?" Or "How can we best utilize our IT staff?"
What do you think are the biggest drivers in IT departments today?
I think there are three major drivers in the IT industry now:
Cloud decisions.

This is a major landscape change that is fundamentally changing the way IT management must approach acquiring and deploying technology. Clients are concerned about cost, processes, people, budgets, throughput, and a range of associated business drivers. It can seem overwhelming, but it's just a question of where resources will reside. The cloud changes the "how" and "where" of the computing environment, but it doesn't change the need for sound business planning around IT or the need for good operational processes.



Big data.

Many organizations are drowning in data; the question clients are asking is "How do I make the best use of that data to optimize my business?" Leveraging data through computing and storage infrastructure, and business intelligence solutions is a huge opportunity for organizations.



Security.

This is a universal business and technology issue. It is particularly challenging in industries that have regulatory or standards-compliance demands, like the financial and medical fields. At the highest level, our consultants bring a best practice based approach to designing and implementing security programs that ensure ongoing security compliance.
What types of organizations can benefit from Versatile's consulting services in terms of industry type or size?
It's hard to think of a type of business or industry that couldn't benefit from our services. Our current client base includes banking, finance, healthcare, manufacturing, public sector (education and local government), retail, technology, and warehousing. Our consultants have managed IT in all of those industries, and have deep experience and expertise including the highly regulated ones.
In terms of size, we run the gamut, although we have a concentration in the medium-to-large sized organizations. We have the biggest impact is in those organizations that have very complex issues to solve, maybe geographic issues, regulatory and compliance, growth or acquisition (bringing disparate systems together). I hesitate to name a minimum number of seats, but we certainly deal with multiple thousands of seats.
What are some of the methodologies that you use to deliver these services?
We focus on facilitated planning and problem-solving. There are a hundred different ways to approach getting a group of people to solve a problem. We concentrate on "what is the most direct way to focus on the issue at hand and arrive at an actionable outcome?"
The framework is: what will this IT system look like or function like when it's operating effectively? What does steady state operations look like for this organization? It sounds obvious, but most people come at it looking at what the technology will look like, not what the business process will look like. We look at the gap between the current state and the desired state and distill a set of actionable steps to get there.
For example, let's say a client wants to roll out Microsoft Office 365 to 3,500 seats. They can't just buy the licenses and turn it on. It seems simple, but some seats don't have browsers to support it or the machines don't have enough memory, etc. So there's a series of steps the organization needs to take to make sure they're ready. We define those steps based on where the business wants to be.
There's an art and a science to getting the work done that involves consensus-building and technical expertise. We make sure the stakeholders within the organization are involved and on-board, then we bring the appropriate subject-matter expert(s) to the table. Our goals are actionable output, agreement across the organization, and getting you where you need to be. Other consulting organizations focus on 200-page findings reports; we focus on action.
What makes you proud to be a part of Versatile's consulting team?
Versatile has a long history of delivering solutions to clients. We have a very consistent, "reference-able" history; a number of long-term clients who speak highly about us. I like to say there's real value to "gray hair" in this business. There's no substitute for experience; not every solution has to be a new solution. There's value in having seen the same problem over and over for a client that is trying to solve the same problem. Technology may change, but in reality we are solving the same fundamental problems over and over in IT.
We also bring a rigorous problem-solving process to the table. That's really what consulting is: discovery, problem-solving, and planning. We're a "next generation" company. We don't focus just on moving hardware, software, and packaged solutions; we care about making sure a solution meets the client's business needs. I think of that as our primary differentiator.