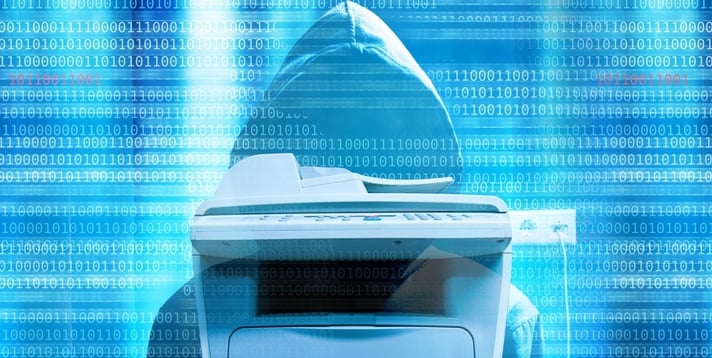 Cyber hackers and data thieves can easily exploit the security vulnerabilities of networked business printers. But most organizations have no idea how much even a single data breach can cost. Once you understand the enormity of what's at stake, you'll want to tighten up your printer security. We can help you avoid this scenario.
Financial Consequences
According to a recent study, the average consolidated total cost of a data breach increased from $3.8 million to $4 million last year. On average, each file stolen cost the victim $158. And it's estimated that nearly a third of global companies will suffer 10,000 lost or stolen records in the next year due to cyber attacks.[1]
Loss of Customers
Most people are justifiably fearful of their personal identity data being stolen in a cyber attack. The news that your business has been hacked can quickly erode confidence in your brand, and your professional reputation can be damaged. In fact, 76 percent of consumers surveyed said they would avoid companies with a high record of data breaches.[2] If that happens, your profitability will suffer as a result.
Business Disrupted
Imagine if data hackers strike during your company's busy season. Or when you're handling a critical project for a valued client. Your work teams get disrupted and their productivity falls off. And you're too distracted by the fallout of the data breach to pay attention to key process details and management duties. When this occurs, you stand to lose significant business income.
Regulatory Fines Imposed
If you're part of a highly regulated industry such as healthcare or finance, you could be liable to pay fines imposed by strict compliance regulations regarding information security. And regulations such as PCI and HIPAA require you contact every consumer whose data has been breached—a significant expenditure of time and resources that can eat away at your profits.
Lawsuits and Legal Costs
If a customer's sensitive data is stolen from records you've been entrusted to keep safe, they have every right to file suit against you. And if a large number of consumer records were compromised in the cyber attack, you could be facing a class-action lawsuit. It could take millions of dollars to settle, and significant amounts of money paid to legal teams.
Secure HP Printer Technology
As an HP Gold Partner, we can help safeguard your organization and avoid the cost of data breaches with best-in-class security features offered by HP PageWide technology. We're an experienced and dedicated full-service IT solutions provider serving diverse industries including healthcare, government, education, insurance, technology, manufacturing, retail, banking, and finance.
Download our solution brief to find out why fast, secure, cost-effective business printing makes financial sense.
---
[1]
2016 Ponemon Cost of Data Breach Study: Global Analysis

[2]
http://investors.fireeye.com/releasedetail.cfm?ReleaseID=970718