Have you ever wanted to order equipment but it was late at night, and your sales rep wasn't available? Been frustrated by limited reporting tools for looking at your purchase history? Wishing you had a built-in, multi-level approval process for online purchases?
We have the most robust online purchasing tools available in the industry, and you can get FREE, CUSTOMIZED access. We'll set up an online site unique to your organization.
We've got you covered.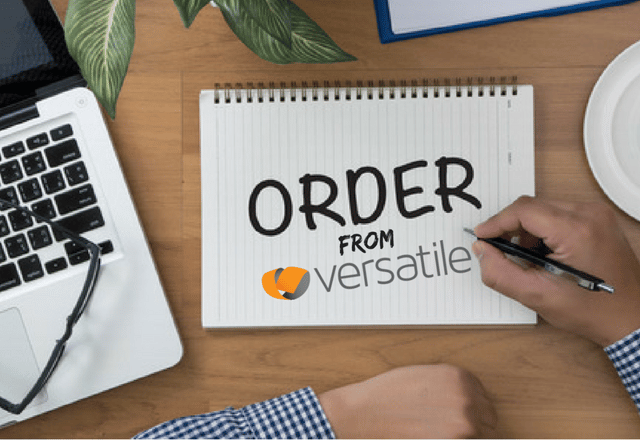 You won't find an online storefront for computer purchases like this anywhere else; we've designed the best online purchasing solution in the industry. When you sign up for a Versatile storefront, we'll set up a web page specifically for your organization that will make ordering and tracking inventory a breeze.
Customized SKUs
Based on your input, we'll build customized standards that you can adopt company-wide. For example, do you assign all your outside sales reps the same laptop, mouse, and tablet? We'll create a single customized SKU that includes all the equipment a new rep needs. When you hire a new rep, all you have to do is order one SKU and drop-ship the order directly to his or her location. Any combination of recurring purchases can be bundled together for easy purchasing.
Inventory tracking
Wondering which employee has what equipment? No worries...we've got built-in asset management features that lets you keep track of it all. If you're ever faced with an internal audit, you can quickly and easily identify exactly where your equipment is. Or if an employee leaves the company, you'll know exactly which equipment was assigned to them.
Multi-level routing
With our ordering system, you can set up pre-defined rules that guide orders through a systematic approval process. These rules (established by you) essentially manage the purchasing approval process so you don't have to.
Sophisticated—yet simple—tools
Our built-in tools lets you access a wide range of data, quickly and easily. Examples: easily review order history, search by PO or purchaser's name, capture ship-to addresses, generate automatic emails, track shipping and delivery, review how much warranty is left on an asset, run customized reports, manage logistics, and more.
Lifecycle management
Let's say you turn over your equipment every three years. You can easily manage the lifecycle of your assets by running a report that tells you exactly what needs to be purchased and when.
Think of a storefront as a personalized "shop local" retailer rather than a "one size fits all" big-box store. Whatever you're looking for, we're confident you'll find it here.
Customized Storefront Benefits
Around-the-clock ordering availability
Easy-to-use interface
Bundled SKUs that save time

Locked-in standard purchases

Consistent pricing
Simplicity
Customized Storefront Features
Personalized website unique to your organization
Customized server and client configurations
Logistics management tools
Order history customization
Standard or custom configurations
Automatically generated emails for shipping & delivery
Pre-configured approval processes
Lifecycle management

Held inventory until you need it
What are you waiting for? There are no down sides. Get started now!