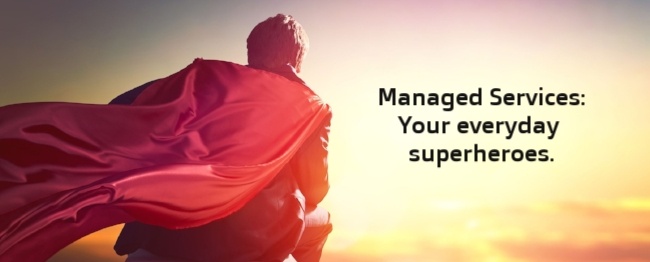 Given the amount of work thrust upon your IT department, your staff needs either needs more people, budget, or time, right? Or does it? Instead, consider a Managed Services partner that can relieve the pressure (and probably save you money). But how do you find a partner? What should you look for? Here are 7 things you should look for when evaluating a Managed Services partner.
1. Technical Expertise
Make sure there's a strong match between your organization's technical needs and the vendors that the partner supports. Does the partner support a range of vendors, both hardware and software? What type of certifications does the staff have? Are those certifications entry level or are they advanced level certifications that require deeper knowledge and experience to obtain? If you have a specialized technical solution, is the partner willing to support that application? Is the Managed Services team backed by a strong consulting team too, in case you have very complex needs?
2. Vendor Relationships
When your Managed Services partner has strong relationships with its vendors, you know that if a technical snafu occurs, they can get answers from the vendor quickly. Ask about the quality of their vendor relationships. Have they won any vendor awards? How long have they been partners? How quickly they can get answers? What does the vendor say about the partner?
3. Proactive, Not Reactive, Services
Get the most your of your Managed Services team by making sure their services aren't just reactive. They should be proactive too. Are they keeping up with virus protection and malware on your users' desktops? Are they monitoring the uptime of your servers? Remember, the whole point of hiring a Managed Services team is to make your life easier, not harder. You want to offload your IT burdens, not make them bigger.
4. Extended Services
If your organization needs consulting services (like when it upgrades its network, migrates to Office 365, or needs a cloud solution) does your Managed Services company have consultants who can help? Can they design a roadmap? Do they offer CIO advisory services? Can their expertise save you time and money?
5. Acceptable Hours of Operations
Make sure your Managed Services partner's hours suits your organization. When are they staffed? Are they open the same hours as your organization? What happens if an "after hours" incident occurs? Is there an "on-call" service? Are "after hours" calls included in your contract or do they cost more? What about holidays, weekends, and vacations? Are they open? Can they help with augmentation services while your staff takes time off?
6. Third-Party References
Talk to current or previous clients. What do they say about the partner? Is the customer happy with the level of support, communication, and issue resolution? How long are their customer relationships? Ask around in your industry for referrals, and ask the partner for references. What is their track record? The Managed Services partner should be able to easily and quickly provide you with names of clients.
7. Organization Size
Here, we don't mean the size of the partner company; we mean the sizes of the organizations it can support. Does the team support only a certain sized company, or are they willing and capable of supporting any organization, whether it's two-person shop or a 1,000-seat company? Your Managed Services partner should treat all customers equally, regardless of company size.
There are lots of ways in which Managed Services can help your organization, and lots of things you should consider when choosing your Managed Services partner.
---
To learn how Versatile can support your organization Managed Services, call 877.217.3397.