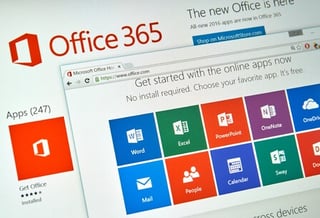 Let's say your organization tasks you with migrating from their current business platform to Microsoft Office 365. If you're like most IT leaders, questions immediately start running through your mind:
How do you match the quilted patchwork of applications that you use now to the Office 365 offering?

How do you keep the user experience as consistent as possible?

How long will the process take?

What are the pitfalls that you haven't even thought about yet?

What resources can you use within your organization?

What level of Microsoft licensing is appropriate?

What does Office 365 offer that you currently aren't taking advantage of?
(Oh, by the way, did they mention you need to have this done in 3 months, when the current licensing expires?) How can you possibly answer the questions, let alone complete the migration, in just three months?
There are certain instances where bringing in an outside consultant makes perfect sense, and this is one of them. In fact, any constraint on time, resources, money or skillset provides an opportunity to consider this option. Most people think hiring a consultant costs too much money, but not necessarily! There are many ways consultants can help to get your project delivered on time, on spec, and on budget. Here are three ways why hiring a consultant may be more cost-effective than you think:
A subject matter expert can reduce the overall time to conduct a project.

Even though the hourly rate of a consultant may be higher than a full time employee, if they can finish the project in half the time, the prices may be comparable, or even less.




A consultant can be hired for just the portions of the project you aren't familiar with.

For example, if you're moving to Microsoft Office from a competitive platform, you may need to set up an Active Directory instance in Azure prior to the migration. You could utilize a consultant who has done this many times, and then complete the rest of the migration with your team.




A consulting team can escalate issues and provide general guidance.

Maybe your team feels confident with the migration, but wants someone to prove a "proof of concept" prior to the migration. A consultant can be there to answer any questions and lend a hand if an issue arises.
Don't be afraid to reach out to a consulting company and learn about your choices. Most of us love the technology, and the challenge of figuring out client issues. Typically we can propose a couple different options of achieving the goal, and then let you decide which path meets your timelines, goals, and budget.