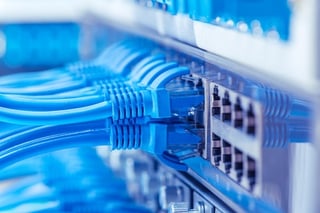 By Chris Springer
If you're going to visit a new country, you have options on how to get there, right? Which one will get you there the fastest: wandering around aimlessly, planning the trip on your own, or consulting with an expert?
Right...the expert!
Getting your network where you want it to go is similar. You likely know exactly what the network needs to support your organization, but you're not necessarily an expert in how to get there. You have questions about technical readiness, new technology, security, and more.
Here are three ways an expert network partner can help support your organization's IT infrastructure.
1. Collecting data.
First, your partner should collect data.
At a site visit, the team will use assessment tools to collect data from and about your network. The whole point is to understand what's going on, like what types of technologies are installed and where bottlenecks exist. Even if you have a pretty good idea, you may be surprised at the findings. It's all about discovery.
The team will also conduct interviews with the IT stakeholders, the folks who are "the visionaries" and understand the ultimate goal(s) of the network and the organization. Your network must support the organization's business goals. A good network consultant will be diligent at understanding what those are so they can bridge the gap between the current IT infrastructure and the organization at large.
Every organization has different objectives: your organization might want to focus on its wired or wireless network, but another may want to address application-level infrastructures. Your network partner should come away understanding your organization's unique goals.
This step is not just about collecting data, it's about collecting the right data.
2. Analyzing data.
After the site visit, the network team should analyze the data.
This step should involve a team of IT technology experts, from systems architects to project managers. The team will take a "360 degree" approach, considering everything from technical readiness and new technology to a project timeline and budget.
This analysis should take place at a holistic level. The team should consider the data at all angles so it can design a solution that fits the organization's needs today and also prepares them for the technology of tomorrow.
3. Creating a roadmap.
The network team should create a roadmap that articulates how your network will get from "here" to "there."
The roadmap is an action plan. It should include all the steps that the organization needs to do in order to get to where it wants to go. This action plan should include an overview or summary, a list of recommendations, supporting documents (like policies, procedures, and standards), and a technology plan.
All team members will weigh in on this final document to make sure it addresses the unique circumstances of your organization.
What should you look for in an expert networking partner?
So let's say partnering with a network expert is right for you. How do you find the right partner? Make sure you ask a lot of questions! Here's what you should look for:
A partner who will listen to you and strive to understand your organization's unique needs and wants.





Avoid partners that believe in an "one-size-fits-all" solution. Even within the same industry, every organization is different and your network partner needs to understand that.





A team with experience with both technology and business.





A good partner will have experience, and be an expert in, bridging the gap between IT and business decisions. An expert in one or the other isn't good enough.





A wide breadth and depth of technical experience and industry know-how, including robust partnerships with industry manufacturers.





You need a technology partner who can take a "deep dive" into any technical issue. They should be able to help you solve problems in hours compared to the days or weeks it might take you to figure it out on your own. You also want a team with strong relationships with manufacturers and can get answers quick, if there's any problem.





A company that will be there for the long haul.





Over time, you want a partner that will become a trusted advisor. While building that trust takes time, if you start with a company that's been around for a long time, it's a good starting point.



Chris Springer has been in the networking field for almost 20 years, and has been a Senior Network Consultant at Versatile for over 5. His areas of expertise include complex project management, key infrastructure design, and innovative problem solving. He helps design, plan, implement, and troubleshoot system configurations of the highest complexity including routing, switching, data-center, storage, virtualization, security, voice, wireless, and emerging technologies. He is highly certified in HP networking, Cisco, ShoreTel, and SonicWall. You can reach him at Chris.Springer@weareversatile.com.
---
Interested in learning more about Versatile's Network Health Check? Sign up today for a "no cost, no obligation" discovery meeting with one of our network experts.
Versatile is a full-service technology partner that helps align computing decisions with desired business outcomes. We take great pride in helping your organization run smoother, more efficiently, and more profitably by helping you find the right balance between traditional IT and cloud computing.